Adobe Acrobat Reader DC software is a PDF file viewer that can open and interact with all PDF documents. To download Adobe Acrobat Reader DC please click here.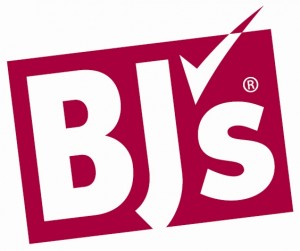 Please click on a link below for an application for the Liberty Bell Chapter, to view, renew or sign up for a BJ's membership.
Please click here for the BJ's flyer.
Please click here for Pioneers mailing instructions for new member/renewal forms.
BJ's application for the Liberty Bell Chapter PDF
NOTE: If you live in New York or New Jersey or any other state that has a tax on memberships you must include the tax in your payment.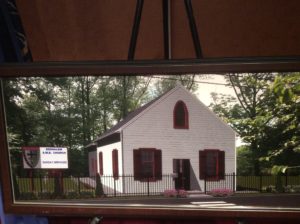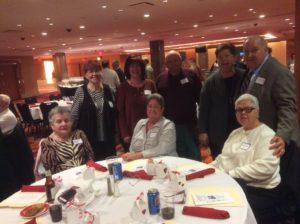 Liberty Bell Chapter Pioneers were recognition by the Bensalem Heritage Foundation.
On various weekends our members partnered with the Bensalem Heritage Foundation to restore an old African Methodist Episcopal Church.  Historic significance is it was part of the underground railroad.  The church was established August 12, 1818.
Each volunteer received a certificate of appreciation.
pictured left to right standing:  Marie Yotsko, Linda Kane-Jones, Jim Jones, Elaine McLaughlin and Geno McLaughlin. sitting left to right: Rae Ann Smaron, Bernie Allen and Maryann Murtha, missing was Al Lewis

Liberty Bell Chapter volunteers sorted 45 dozen socks and mated them.  We delivered 4 dozen of them to each council to donate to various homeless shelters, domestic abuse homes and food banks.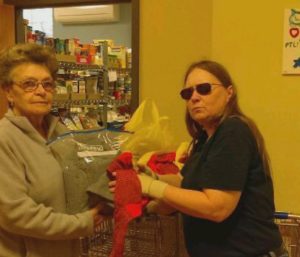 Northeast Council's Julie Henderson is presenting Ellan Kay Faust at St. John's Feast of Justice with 4 bags each with 2 dozen socks, zippers and patterns  and 4 bags of personal care items for their food bank and homeless clients.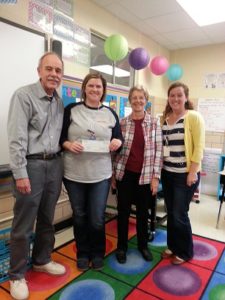 Seaford Central Elementary School 3rd graders received a donation from Caesar Rodney Council New Vision  Pioneers to purchase books and reading materials.
Pictured left to right
Pioneer Wayne Sterling, 3rd grade teacher Katie Purse, Pioneer Phyllis Sterling and Principal Becky Neubert